Christmas has always been a magical time of year.

I remember laying in my bunk bed, trying to stay awake to get a glimpse of Santa Claus delivering our presents. We didn't have a fireplace so I thought for certain I would hear him open our squeaky front door.
It never happened.
But I can still feel the magic of seeing that Christmas tree all lt up, and presents piled high around it! The rule at our house was that we couldn't leave our bedroom until 5:00 AM. We could each open up one gift before we were allowed to wake up the rest of the house at 6:00 AM.
It was the longest hour EVER!
Christmas around the world
I find it interesting how Christmas is celebrated differently around the world.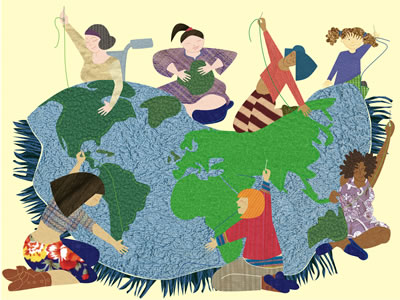 Here are some examples…
In the United States, stockings are hung on Christmas Eve.
The legend goes that St Nicholas heard of a family in need. To surprise them, he climbed down their chimney and placed precious bags of gold in hanging stockings.
From this point, St Nicholas was known as Santa Claus, giver of gifts.
In Mexico, kids of all ages celebrate Christmas by breaking piñatas. Adults and children have fun by wearing a blindfold, spinning around, and swinging a stick to break open the star-shaped hanging pots. When the piñata is smashed open, nuts, fruit and candy spill out for everyone to enjoy.
In France, children traditionally put their shoes out next to the fireplace in anticipation of Pere Noel's arrival. If children have been good throughout the year, Pere Noel will fill their shoes with gifts.
In Argentina, Christmas begins promptly at midnight. Many families kick off the holiday by hosting festive celebrations in their homes, opening gifts with their loved ones. and lighting fireworks in the early hours of the morning.
Thanks to Google Santa Tracker for this information. Click the link for more info.
Game Changer
Cloud technology has been a game changer, altering the way businesses big and small store data, provision software, and run their computer networks.
Now it's changing the way companies communicate.
More and more businesses are considering cloud PBX options. Many are in search of advanced features like chat and presence – features previously available only to larger businesses. Others want to avoid a large capital outlay. The subscription-model pricing of cloud services make a more advanced phone system an affordable option for just about anyone.
Quality Concerns that Shouldn't Be: Bandwidth
In the early days of cloud systems, bandwidth was a legitimate concern. Most locations lacked the bandwidth needed to guarantee the level of service that customers demanded.
It's why many wound up switching away from cloud systems.
All that's changing. Bandwidth across much of the country is now at a level that call quality should not be a concern.
Quality Concerns that Shouldn't Be: Product
When cloud was new, there was a rush of companies hoping to be among the first to the market with a solution. Oftentimes that resulted in products that were buggy and performed poorly. It's something that not only turned off customers, but it made resellers more hesitant to embrace the technology.
There are companies, though, that didn't put an emphasis on being first to market but instead on delivering the right mix of features and services. These companies have taken the time to quality-test their products to ensure that they come to market as close to perfect as possible, even if that means they enter the cloud market a little later than some other vendors.
Please talk to us about how we can safely take you to the cloud.
Thanks for your time and interest!
Contact me anytime,
Jim
Jim Beard
Technology Consultant
(858) 860-7006
jbeard@cwsdn.com
Commworld of San Diego-North, Inc. | jbeard@cwsdn.com | 9672 Via Excelencia Drive, Suite 103
San Diego, CA 92126