Mobility in IP/VoIP Phone Systems in San Diego
VoIP and IP based phone systems are good for business. They help you save money, and at the same time, expand the scope of your operations. In addition to local calls, IP based phone systems along with SIP trunking, allow you to make national and international calls.
One common issue is whether you have to be tied to your desk to make and receive calls? Well not really. We can provide mobile phone capability in multiple ways: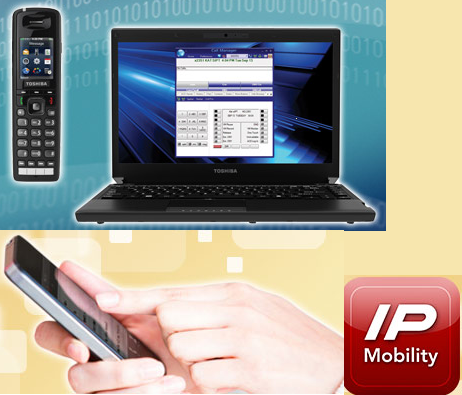 On-Premise Mobility
For large offices, we can provide mobile phone capability within the building in two ways.
We can install base stations that extend your connectivity using DECT and cordless phones such as Toshiba IP4100. With this you can carry your desk phone functionality all over the office using your cordless mobile phone
If you have WiFi in your office, we can offer products such as Polycom Spectra 8440/8450 wireless phones. These wireless mobile phone products integrate directly with your IP systems using SIP.
Off-Premise Mobility
Off-premise is where we excel. Our IPMobility is an application that you can install on any Android or Apple smartphone. With a single number reach, you can take you call either on your desk phone or your smartphone in an interchangeable manner. You can also set your status allowing you to decide how to handle incoming calls. This is the ultimate mobile phone capability for any IP/VoIP phone system.
Toshiba's digital telephones and consoles are designed to take the knocks of any busy workplace. With advanced features that are easy-to-use and easy to customize.
Place, receive and manage calls and messages on secure wireless handsets, on your smartphone, or on PCs and tablets equipped for voice calls.