Voice & Data Cabling in San Diego
Voice and data cabling is the most significant infrastructural element of an organization as it helps to carry data, and now, voice too. In order to transmit data without any signal loss, the material, cable quality, installation and testing methods are critical. Networks in offices are meant to carry large volumes of data at very high speeds. Usually, unshielded twisted pairs are used for creating the network but, in order to achieve high speed data transfer; there are several criteria to be met.
There has been a huge leap in bandwidth usage and our dependence on the network has increased immensely. The transfer of information has become more demanding and difficult. Cabling issue plagues majority of the offices and it results in numerous network problems that culminates in financial and productivity losses for companies. Some of the common problems that occur due to cabling issues are low attenuation, poor cross-talk ratio or, ACR, poor near end cross talk or, NEXT, impedance, poor delay skew, and splices in cable.
These problems can be kept at bay by creating a structured cabling system, testing the network before using it, and taking some simple tests for maintenance. Designing, implementation and testing of the cabling system must be done in compliance of the latest guidelines and equipment. Commworld of San Diego North, are your reliable partners in designing and implementing a robust cabling system at your office that will work for you for years.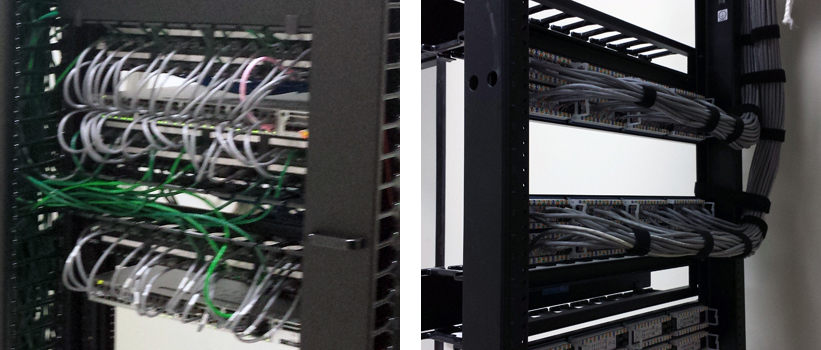 The Need for Structured Cabling in San Diego
If you are looking to build a perfect cabling system then it is best to opt for the structured cabling system. Commworld of San Diego North will help you to plan, design and implement a high-performance structured network cabling for your office. A great communication system needs to be backed by an efficient and effective cabling system. A Structured cabling system helps to eliminate the regular network glitches, thus making data and voice information transfer speedier. Faster transfer of information leads to higher productivity, which eventually leads to greater profits.
Data & voice cabling systems designed and installed by Commworld of San Diego North can be used with the latest IP/VoIP and Cloud telephony systems. They would help you to make optimum use of latest communication systems, thus turning your business communication efficient and effective. Switching to VoIP will reduce your communication costs, and you do not have to foot huge telephone bills at the end of the month. VoIP, video conferencing, voice mails, hosted IP, SIP trunking are some of the advanced communication systems that you would be able to make full use of by installing a Commworld of San Diego North structured cabling system.
Advantages of Structured Cabling in San Diego
This cabling system offers great flexibility and it is affordable to even the smallest of companies in San Diego
Dismantling this cabling system is really easy, so relocation can be done in a jiffy.
Efficient data as well as voice traffic handling by the system. It can also be put to use for different network infrastructure.
The costs associated with large volume data transfer on structured cabling is considerably lower than other cabling. The faster data transfer results in greater productivity and higher profits.
This cabling system can be conveniently used in houses, warehouses, offices and buildings.
Almost all the latest digital equipment such as faxes, printers and scanners are compatible with this networking technology. Structured cabling provides the flexibility needed to connect almost every type of digital equipment to the network at affordable rates.
Layout of Structured Cabling in San Diego
There are three cabling standards followed for structured cabling systems
The American Standard – EIA/TIA 568C
The International standard – ISO/IEC 11801
The European cabling standard – CENELEC EN 50173
Structured cabling consists of modular subsystems that are fused together. All the independent subsystems are designed as well as implemented independently but are connected later to work as a complete system. Flexibility is the mantra behind a structured cabling.
The subsystems comprises of:
Work area subsystem
Horizontal subsystem
Backbone subsystem
Telecommunications Room (TR)
Equipment Room (ER)
Entrance Facility (EF)
Voice and Data Cable Types in San Diego
The three different voice and data cable types used are:
Coaxial cables – Ethernet connections up to 10 Mbps are created with coaxial cables – 10Base2 standard for thinnet, and 10Base5 for the thicknet.
Twisted Pair Cables – UTP or Unshielded Twisted Pairs and STP or Shielded Twisted pairs are 10BaseT standard cables that are available in the form of Cat 1 cables, Cat 3 (10 Mbps maximum capacity) and Cat 5 100Base-TX (Maximum speed of 100 Mbps). The Cat 6 cable can handle data transfer speed of up to 10 Gbps.
Fiber Optics Cables – Optical fiber cables are made up of a thin glass cylinder known as the core. This is covered by a glass cladding. Two cores, one for receiving and the other for transmitting, are present in an optical fiber cable. The capacity of a single optical fiber cable is very very high and it can carry 3 million full duplex voices or 90,000 TV channels simultaneously. 1 trillion bits per second theoretical data transfer speed of an optical fiber cable, but this is yet to be tested.
Cable Termination and Patch Panels in San Diego
Terminating process involves the termination of cables like Cat5, Cat5e or Cat6 with RJ 45 connectors. Crimping tools, cutting tools, and UTP cable stripping tools are required to perform the termination.
Patch panels are used in Ethernet network and they are mounted on a rack. These contain the port location and often work as the static switchboard of the network. Patch cords are used to create the connections. A few patch panels that are frequently used are:
Blank Patch Panels
Cat 6 Patch Panels
Feed Through Patch Panels
CAT5E Patch Panels
Feed Through Patch Panels
Coaxial Patch Panels
Twinax Patch Panels
Wall Mount Brackets
Voice & Data Cabling by Commworld of San Diego North
Commworld of San Diego North is a leading voice and data cabling service provider in the city of San Diego. We install all types of voice and data cables including CAT3, CAT5e, CAT6, coaxial, and fiber optic. We complete projects of all sizes, from one cable to hundreds of cables. We can add cables to your existing location or plan and implement communications infrastructure for your new building.
As a C-7 low voltage licensed contractor, Commworld of San Diego North can help you plan your data infrastructure to meet your current and future needs while keeping an eye on your bottom line.
We have an experienced team of engineers who are ready to help you in your endeavor to create structured voice & data cabling for your office network. Our team can be consulted to provide valuable insights for improving the network infrastructure at your office. They will help you determine your requirements and then draw up a plan to design and implement cabling system. We have helped 1000s of companies in and around San Diego for the last 20 odd years we have been in business. Some of our customers have been our loyal clients for 15 years or more.
Call us today: 858-549-5000 so that we can understand your needs and set up the best voice and data cabling possible in your office.
Commworld of San Diego North proudly offers cabling products from: