Are you ready to plant your Wildflower seeds so they can SPRING INTO ACTION?
We want to give you some help with the gardening. So, enter for a chance to win our Gardening prize and let's get to planting!
We have partnered with RingCentral on this campaign. Together, we want to give you an opportunity to grow your business this year and sometimes, it just takes a little tending to. When was the last time you evaluated your hosted phone solution or cabling? How can we ensure you keep the lines of communication…working?
Let us know how we can help.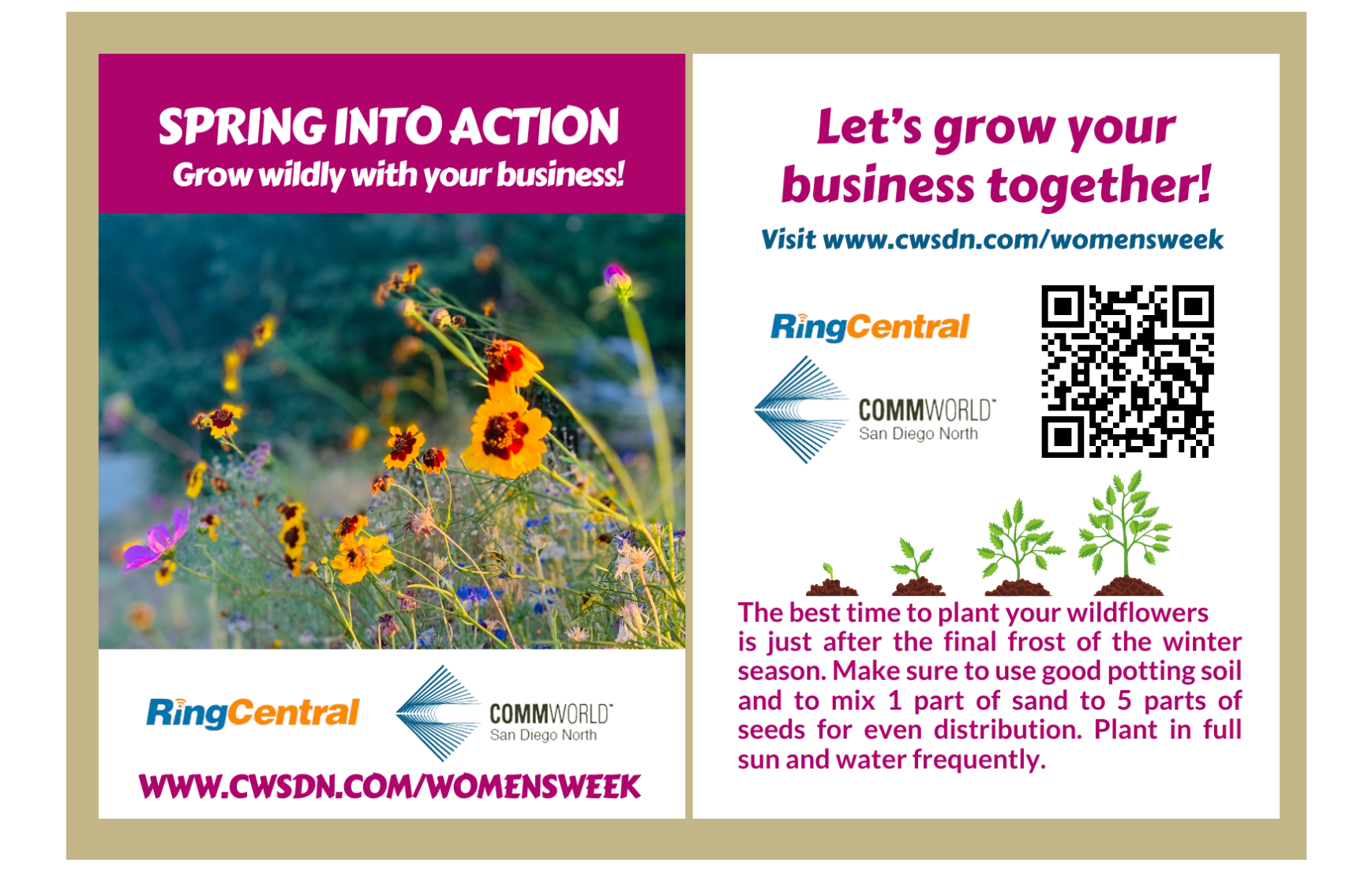 All through Spring Season, we want you to submit photos of your growing wildflowers with us. Email them to rreed@CWSDN.com along with a small blurb of what you've been doing to grow your business. From those received we will select a winner at the end of this year's Spring Season!
Why do I volunteer for San Diego Women's Week?
I have volunteered for several years now in support of San Diego Women's Week. Being in a room with 500+ women from all types of businesses, backgrounds and associations is a transformative experience.
Besides that, here are my top 7 reasons for being a part of the event:

1. Career advancement: Connecting with other women can create opportunities for professional growth and advancement.
2. Support and encouragement: Building a network of supportive women can provide encouragement, motivation, and a sense of community.
3. Mentorship: Networking with more experienced women can provide valuable guidance, advice,and mentorship.
4. Sharing of resources: Networking can lead to the sharing of information, resources, and connections that can be beneficial in both personal and professional life.
5. Collaboration opportunities: Networking can lead to opportunities for collaboration and partnerships on projects and initiatives.
6. Personal growth: Building relationships with women from diverse backgrounds can expand your perspective and help you grow both personally and professionally.
The connecting doesn't stop at the event. Let's keep it going. Follow our company Linkedin Page and connect with me on Linkedin too and if you're ever up for a virtual coffee/tea chat, schedule one here. I'm always ready to connect! It's what I do!